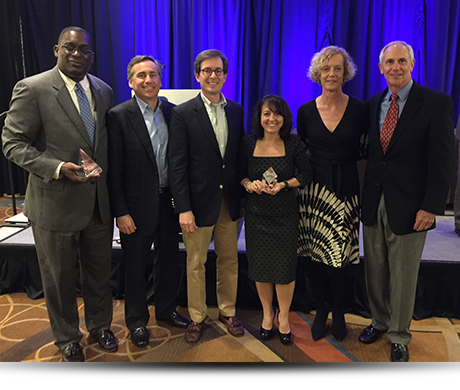 GDLA Executive Director Wins National Award
GDLA Executive Director Jennifer M. Davis was honored by DRI – The Voice of the Defense Bar with its State & Local Defense Organization (SLDO) Executive Director Award. She received the award during the DRI Annual Meeting in Boston on October 20, 2016.
GDLA leaders pictured at the ceremony are: (l-r) Douglas Burrell, GDLA member and DRI national director, who also received DRI's Richard H. Krochock Award for his work mentoring young lawyers; Immediate Past President Matt Moffett; President Peter Muller; Ms. Davis; President-elect Sally Akins; and Past President and Georgia's DRI State Rep Ted Freeman.
The award honors an SLDO executive director who best fosters a relationship between their SLDO and DRI, the national defense bar, and who has otherwise demonstrated exceptional service to the cause of the defense bar and their SLDO.